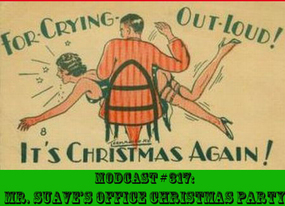 Well, here it is the second seasonal modcast this year! Joining me is Ken from The Shingles to help sort through a bunch of really cool Christmas tracks. Merry Christmas mods!
Listen Now
Cute Lepers -- Cute Lepers Xmas Song
Angry Snowmans -- Egg Nog
The Dollyrots -- Because I'm Santa
Toy Dolls -- Credit Crunch Christmas
Bill Cosby -- Merry Christmas Mama
Jaymz Bee -- Sleigh Ride
Magnus T -- Snow Bunny
Marvin Gaye -- Purple Snowflakes
The Len Price 3 -- It's Christmas Time Ebenezer
Boss Martians -- 3 Ghosts
Chesterfield Kings -- Hey Santa Claus
Short Skirts -- Christmas Depends on You
Sleepwalkers -- Christmas Morning
Leevees -- How Do You Spell Channukkahh?
Lisa Mychols -- Lost Winter's Dream
Twitter -
@mistersuave
Facebook -
facebook.com/modmodworld
Subscribe -
iTunes