What is Mod? Mr. Suave's Mod, Mod World is one of the web's original modcasts celebrating mod music, and mod-influenced music from past eras including soul, ska, garage, sixties R&B power pop, punk, britpop, acid jazz, lounge, easy listening and more.
May 23, 2014
Can you hear me now? Good. No busy signals, no call waiting, and no dropped calls on this week's modcast. It's telephone time in the mod mod world, and I've got the best hold music you've ever heard so stay on the line for some great telephone songs.
Listen Now
Download
The B-52s -- 6060842
Wilson Picket -- 634-5789 (Soulsville, U.S.A.) (1966)
The Marvelettes -- Beechwood4-5789 (1962)
Etta James -- 842-3089 (Call My Name) (1966)
The Kinks -- Party Line (1966)
The Partridge Family -- Echo Valley2-6809 (1972)
The Untamed -- Mayfair5-4321 (1966)
The Gloomys -- Calling Mayfair 5016 (1967)
The Soviettes -- Hanging Up The Phone (2005)
The Kicks -- Get Off The Telephone (1980)
The Jetty Boys -- Telephone Man (2010)
The Frinchers -- If You Know My Phone Number (2012)
The Records -- The Phone (1979)
The Troggs -- Double6 54321 (1966)
X -- Your Phones Off The Hook But Your Not (1980)
Louis CK on primitive rotary phones
The Frinchers - Across the Albert Dock
The Soviettes -- #1 is Number Two
Twitter -
@mistersuave
Facebook -
facebook.com/modmodworld
Subscribe -
iTunes
May 15, 2014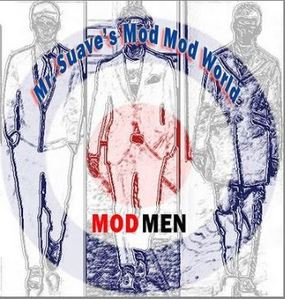 Welcome to Mr. Suave's Mod Mod World. This week's show is brought to you by the letter Y as in Y chromosome. It's mod men week on the modcast. I've collected songs from mod men, some with undeniable mod street cred like Ray Davies, Steve Marriot, or Paul Weller, and to others like Mose Allison and Paul Heaton who I will go to my grave arguing are every bit the mod as any other man. Regardless of all that, you can't argue with the songs. It's another great mix, if I do say so myself.
It was hard to put together the list, partly because what I really wanted were established artists who were now doing solo work. It was easy for some of them. Then there were others, like Steve Marriot who I really wanted to put in the show, that I had to dig deep and still found them in a band situation, or guys like Mose Allison who have essentially been solo artists for their entire careers, I included them anyhow.
Listen Now
Mose Allison -- Seventh Son (1962)
David Bowie -- Love You Till Tuesday (1967)
Manfred Mann -- 5-4-3-2-1 (1964)
Steve Marriott -- Money Money (1964)
Graham Coxon -- See Saw (2006)
Paul Heaton -- I Do (2008)
Adrian Holder -- Goodbye Tuesday (2006)
Paul Bevoir --It's Gotta Stop Somewhere (1992)
Liam Gallagher -- Married With Children (1994)
Ray Davies -- Other People's Lives (2006)
Paul Weller -- Broken Stones (1995)
Ray Davies - 20th Century Man
The Jetset (Paul Bevoir) -- Wednesday Girl
Twitter -
@mistersuave
Facebook -
facebook.com/modmodworld
Subscribe -
iTunes