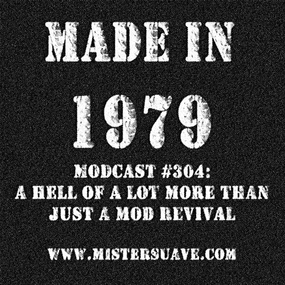 In 1979 there was a whole hell of a lot more going on than just the mod revival. You all know the mod revival inside and out I'm sure. Trom The Jam to the Purple Hearts, the Small Hours, The Aces, to Mods Mayday '79, and of course the release of Quadrophenia. All good stuff. And all been done to death. Heck,
I did a big mod revival show a few years ago
as part of my Mod Essentials series. It's a good show. As I said, a whole hell of lot of other things were happening in music. Like 1966 and 1994, 1979 was just one of those iconic watershed music years. So on this week's modcast I'm going to explore some of the other things happening at the same time the mod revival was in full bloom.
Listen Now
Download
Elvis Costello
-- Moods For Moderns
Joe Jackson
-- One More Time
The Vapors
-- Waiting For The Weekend
Squeeze
-- Cool For Cats
XTC
-- Making Plans For Nigel
The Cure
-- Jumping Someone Else's Train
Patrick Fitzgerald -- Improve Myself
B-52s
-- Private Idaho
Oingo Boing
-- Only A Lad
The Plimsouls
-- Zero Hour
The Knack
-- That's What The Little Girls Do
The Ramones
-- Rock'n'Roll High School
The Dickies
-- You Drive Me Ape
Weirdos -- Happy People
Madness
-- In The Middle Of The Night
The Specials
-- Too Much Too Young
The Beat
-- Mirror In The Bathroom
The Undertones
-- You've Got My Number
The Dickies do Basket Case on CPO Sharkey
Blondie -- Dreaming (Live on Midnight Special 1979)
NEW WAVE "20/20" video piece (1979)