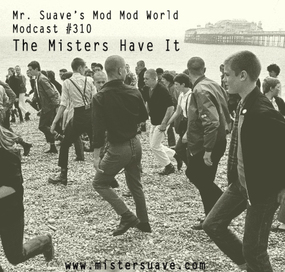 You can blame this modcast on honorary producer Mary Queen of Cosmos who was the inspiration for this week's show -- as she often has been in the past as well. Anyhow she recently sent me Otis Redding's
Mr. Pitiful
which Redding wrote and recorded in the Stax studios in 1964and then released on his 1965 album
The Great Otis Redding Sings Soul Ballads
. But I digress. Ms. Mary challenged me to come up with a playlist to go with the song, and that's how we all endup here listening to some really kick ass music. Mary says a Mr. Pitiful deserves a Mrs. Fabulous, so she's provided us with an excellent cocktail recipe that you'll want to take to heart ... or liver, as the case may be.
Listen Now
Download
Mrs. Fabulous

-1 thick slice of cucumber
-1 slice lime
-1 teaspoon fresh grated ginger
-4oz Hendricks gin
-1tsp rosemary ginger syrup
-1 dash Angostura bitters
In a highball glass muddle cucumber, lime, & fresh ginger. Add ice and blend w/Hendricks gin, Angostura bitters, & rosemary ginger syrup.
Otis Redding
-- Mr. Pitiful (1965)
Eldee Young
-- Mr. Kicks (1962)
The Alan Brown Set
-- Mr. Pleasure (1968)
Keith Relf
-- Mr. Zero (1966)
Freddy Hill & The Reno Bops -- Mr. Lukcy (196?)
The Seeds -- Mr. Farmer (1966)
The Standells
-- Mr. Nobody (1966)
Jean Knight
-- Mr. Big Stuff (1971)
The Jetset
-- Mr. Maybe (1985)
Ruby Velle & the Soulphonics
-- Mr. Wrong (2012)
The Jolt -- Mr. Radio Man (1980)
Len Price 3
-- Mr. Grey (2010)
Quincy Jones
-- (Call Me) Mr. Tibbs (1970)
Combustible Edison
-- Mr. Pushkin Came To Shove (1998)
The Style Council
-- Mr. Cool's Dream (1986)
The Rolling Stones
-- Mr. Pitiful, live (2005)
The Jetset - Wednesday Girl
Ruby Velle & The Soulphonics -- My Dear