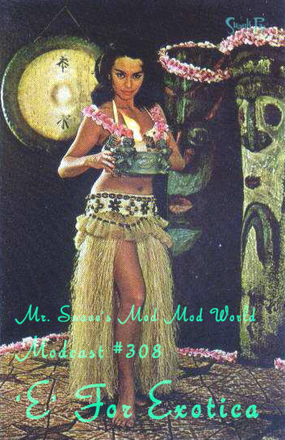 Mods cannot live on soul alone. So come on into Mr. Suave's Swingin' Cocktail Lounge for some serious space age bachelor pad sounds. If you dig exotic sounds, lush orchestration, a bit of the tiki, then you're gonna love this week's modcast.
Combustible Edison:

1 ounce Campari
1 ounce lemon juice
2 ounces Brandy, heated

Combine the Campari and lemon juice in a shaker tin, shake with ice, and strain into a cocktail coupe. After heating the brandy, ignite it and pour the flaming brandy into the cocktail glass. Serve.
Listen Now
Download

Esquivel
-- Question Mark (1967)
Tikiyaki Orchestra
-- Tabu For Two (2009)
Don Tiki
-- Turkish Delight (2009)
Tiki Tones
-- Tum Tiki (1996)
Martin Denny
-- Quiet Village (1954)
Arthur Lyman
-- BambooTamboo (1960)
Les Baxter
-- Tropicando (1970)
Dick Hyman
-- The Topless Dancers Of Corfu (1969)
Xavier Cugat & His Orchestra -- Soul Sauce (1975)
The MGM Studio Orchestra -- Bachelor In Paradise (1961)
Mel Henke
-- The Twisters (1962)
Br. Cleve & His Lush Orchestra -- Shaken Not Stirred (2003)
Dr. K -- Martini Swing (2005)
Ursula 1000
-- Samba 1000 (Nicola Conte Remix) (2003)
Low Fidelity Jet-Set Orchestra
--Forbidden Expo In Hawaii (2008)
Combustible Edison
-- Theme From The Tiki Wonder Hour (1994)
Twitter -
@mistersuave
Facebook -
facebook.com/modmodworld
Subscribe -
iTunes