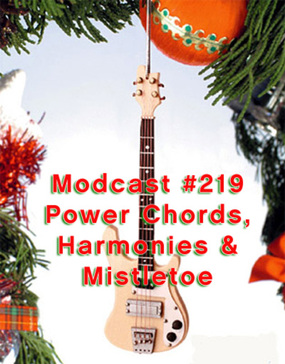 Welcome to the mod world, where this week the powerchords really are running wild. Lots of power pop from the mod revival/Britpunk era of the late 70s and early 80s, as well as a few other cool tracks.
I was lucky enough to have a chance to interview my old friend Dean Hoth, who is the lead singer of power pop trio
The Eddies
. We talked not just about what the band is up to, but more importantly to discuss a new Christmas compilation that is the perfect gift for any and all power pop loving mods out there.
Powerchords, Harmonies and Mistletoe
, which was just releaased last month by Twist Records and the first pressing has already been sold out. Now hear from Dean about how the album came together, what other mod comps are currently being developed and even hear a few of the songs from the CD.
Listen Now
Ordinary Boys -- Run This Town (2011)
Mr. Suave's Reviews You Can Use: Power Chords, Harmonies and Mistletoe (an interview with Dean Hoth of The Eddies)
Little Murders -- Christmas (All Over The World)
Yeh Yeh -- To All Who Cant Attend
The Shambles -- Warm This Winter
The Decibels -- Angles We Have Heard On High
Last Stand -- Just A Number (1981)
The new Romans -- Loving Touch (1980)
The Mods -- If You Got To Go (1980)
The Rivvits -- The Girl Next Door (1978)
Tweed -- I Need You (1979)
999 -- Fun Thing (1980)
Acid House Kings -- Windshield (2011)
Sambassadeur -- Days (2010)
Pelle Carlberg -- I Love You, You Imbicile (2007)
Jimmy Cliff -- Ruby Soho (2011)
Ordinary Boys -- Life Will Be The Death Of Me

Sambassadeur -- I can try